Heating
Everybody knows how brutally cold Canadian winters can be. That's when Montwest makes a real difference. Even when there are freezing winds and blizzards outside, your family will enjoy the perfect climate inside your home with a gas furnace from one of our exceptional suppliers.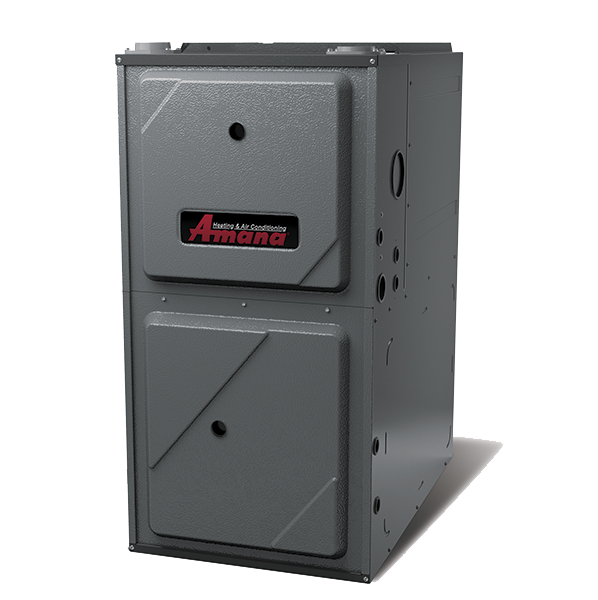 Amana Gas Furnaces
All gas furnaces are NOT created equal. Amana® provides a full selection of gas furnaces, which use an exceptional award-winning primary heat exchanger design that is always setting records for reliability in our testing lab. Modulating gas furnaces are able to provide modulating performance ranging from 35-100% thanks to their self-calibrating gas valves. Variable-Speed gas furnaces provide exceptional and reliable comfort and warmth, while multi-speed gas furnaces do the same, but are designed to perform more quietly.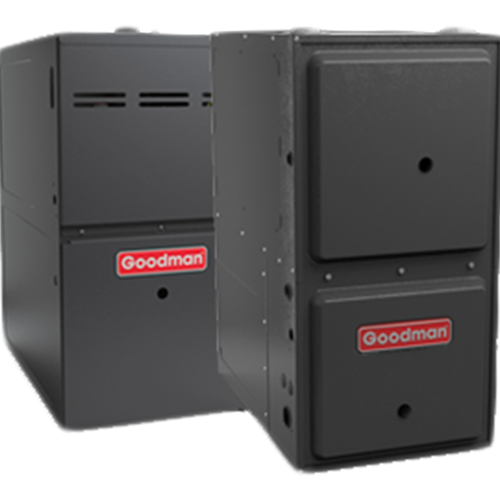 Goodman Gas Furnaces
Goodman brand gas furnaces offer reliable, energy-efficient heat for your home. Available variable and multi-speed systems give the option of slowly adjusting the heat in your home - eliminating the "cold air blow"phenomenon associated with single-speed furnaces. The full line of Goodman brand gas furnaces come with excellent warranty protection and energy efficiency. For maximum savings, look for a unit with a high AFUE rating.
Air Conditioning
Beat the heat during our extremely hot summers. We all know just how uncomfortable the summer can get. We are here to help! With a great selection of air conditioning systems by top manufacturers, our expert staff will bring you the most reliable air conditioners to keep you cool all summer long.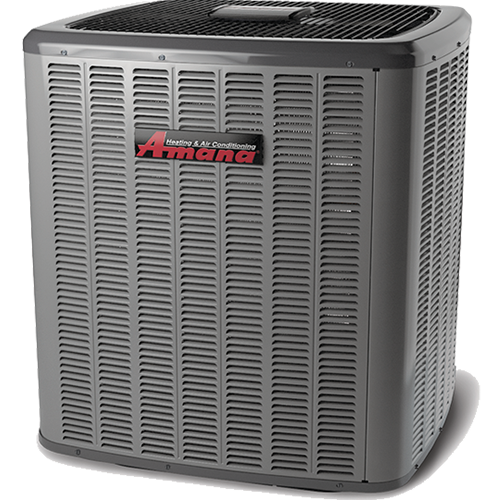 Amana Air Conditioners
Ensure absolute comfort in your home with an Amana brand central air conditioning system. Superior craftsmanship, world class manufacturing processes, and rigorous quality assurance scrutiny combine to ensure Amana products are reliable and long lasting. Enjoy great performance that provides a cool home, lower energy costs, and excellent limited warranty protection for peace of mind.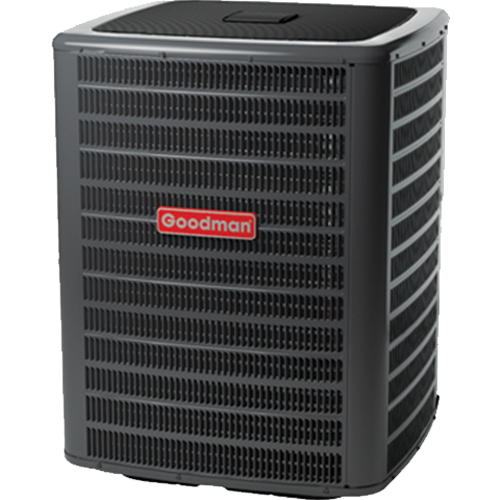 Goodman Air Conditioners
Goodman brand central air conditioning systems offer reliability, durability, and high performance for an affordable price. Choose a Goodman brand air conditioner and enjoy optimum cooling comfort - even on the hottest days of the year. Keep your home cool, lower your energy costs, and feel at ease with the outstanding warranty coverage offered on all Goodman brand air conditioners.
Water Heating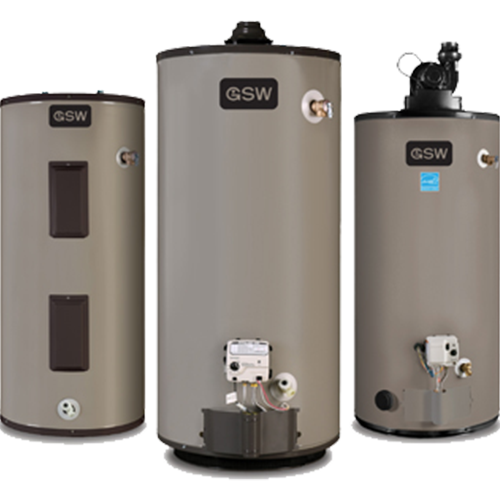 GSW Water Heaters
GSW water heaters are known across Canada for their superior quality, efficiency, and excellent value. Their dependable, safe electric and energy efficient gas and propane water heaters are installed in more Canadian homes than any other brand. GSW electric water heaters have an available bottom-entry design, which is recognized by Natural Resources Canada for exceptional energy saving performance. Their gas water heaters feature exclusive and award winning Flame Guard and Flame Safe technology - proven to prevent flammable vapour ignition.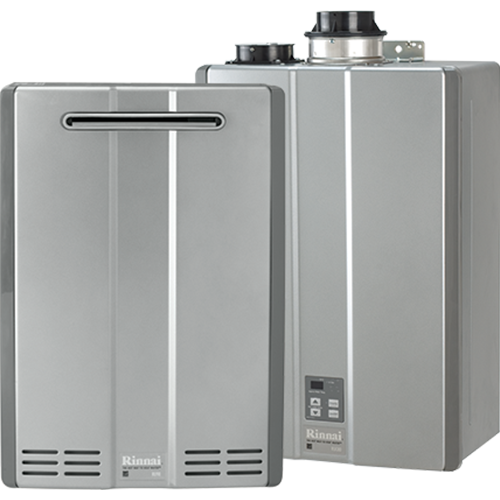 RINNAI
Using up to 40% less energy than traditional tanks, Rinnai's copper heat exchangers offer maximum efficiency. Tankless technology helps you save on energy and utility costs by operating only when hot water is needed, and by using an electronic ignition instead of a standing pilot light. Rinnai's tankless technology is available in multiple sizes for customizable efficiency, and allows you to exchange individual parts instead of replacing your entire system should repairs or replacements be necessary. Take advantage of energy efficiency rebates and tax credits to make your installation more affordable, and increase the value of your home with an improved Home Energy Rating System (HERS) / Score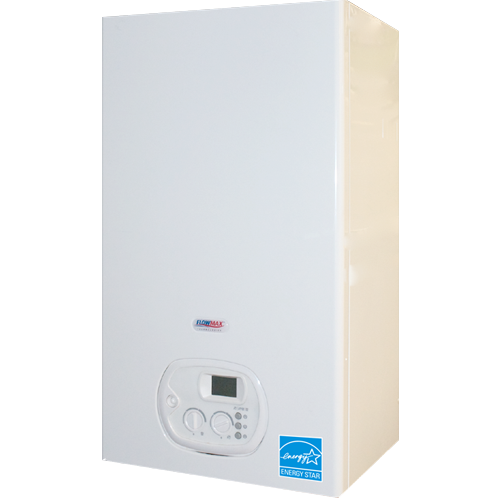 FLOWMAX
FLOWMAX tankless water heaters deliver performance and efficiency with their unique, compact wall-mounted design. Solid materials such as copper, brass, and stainless steel combine to form an easily installed unit that is fully independent and simple to operate. Providing consistent performance and a high efficiency rating, the FLOWMAX is equipped with DIGITECH - an advanced LCD electronic module with self-diagnostic function and operating temperature display. A new premix burner with radial micro-flame and combustion chamber made of stainless steel and the latest version of MULTIPLEX water group modulation make FLOWMAX an excellent choice.
Heat Recovery Ventilators (HRV's)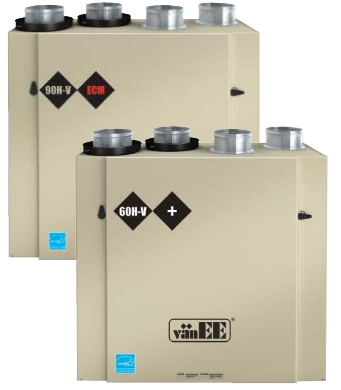 Vanee
Our cold, Canadian winters make proper home heating essential. Heat Recovery Ventilators provide a steady flow of fresh air from outside, warming it properly before distributing throughout your home. Vanee HRV's reduce drafts and inconsistency and provide an exceptionally comfortable humidity-controlled home environment.
Humidifiers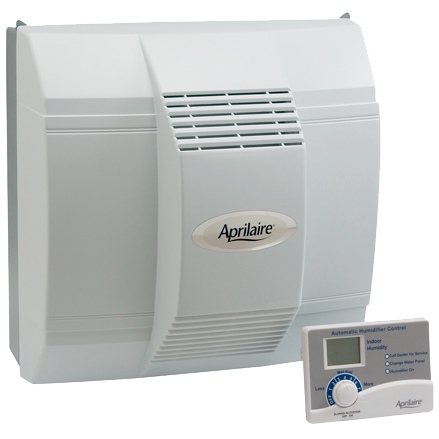 Aprilaire
During the cold winter months, dry air can cause major discomfort from making it tougher to sleep to dry, irritated skin. That's why Montwest works with Aprilaire to provide quality humidifiers, pulling heated air directly from the furnace and delivering optimum levels of humidity throughout the home. With automatic or manual operation, you will enjoy complete control throughout your home.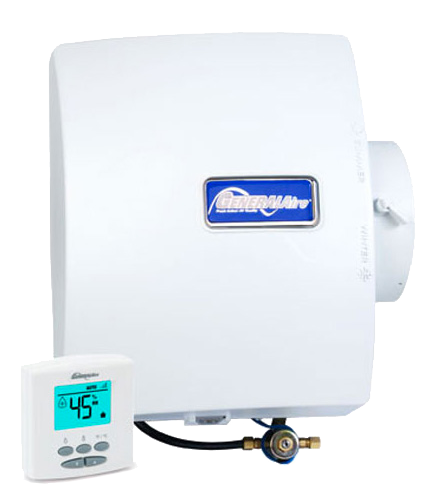 GeneralAire
Humidifiers are a recommended by doctors for those who have allergies and asthma. Without the proper levels of humidity, bacteria, fungi, viruses and mites can become prominent. GeneralAire furnaces filter your warm air through a water-soaked Vapor Pad®, moistening the air and delivering through your ventilation system. Experience the industry's first Automatic Digital Temperature Compensating Humidistat.
Air Cleaners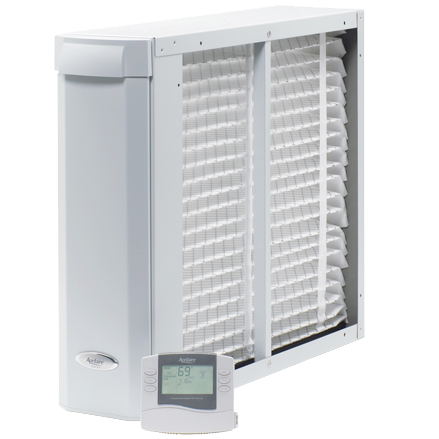 Aprilaire
Why go out for fresh air when you can enjoy it in your home? Montwest is pleased to offer Aprilaire whole-home purifiers to keep every room in your home clean and comfortable. Enjoy 24/7 comfort and eliminate issues with allergies, asthma and more. Our purifiers can trap up to 98% of pollen and mold spores, 96% of pet dander and respirable dust and capture at least 97% of bacteria and fungi.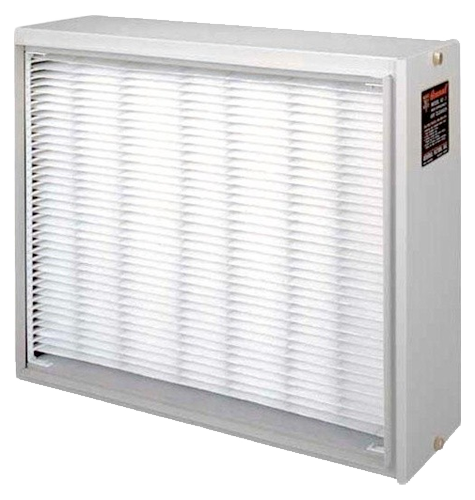 GeneralAire
Montwest also provides GeneralAire Air Cleaners, which can eliminate airborne pollutants as small as 0.01 micron. It comes with a lifetime filter system that can be washed and cleaned, meaning it never needs replacing, saving you money in the long run. These systems may also contain carbon filters to remove gaseous odours, providing a cleaner, safer breathing environment for your family.
HVAC Design
We are experts in HVAC design, providing you with the best solutions for your home. Give us a call to schedule an appointment with a specialized technician.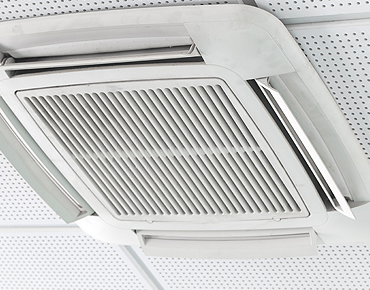 Heat loss / gain calculations
Duct design and sizing, Ventilation systems, Combo systems: - hot water & air handlers, In floor loop layouts, Forced air gas furnaces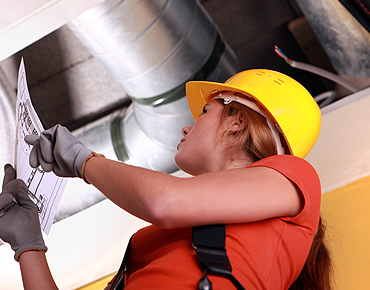 Custom Duct Work
Zoned heating / cooling systems, Geothermal systems, District heating & Cooling systems, Radiant floor heating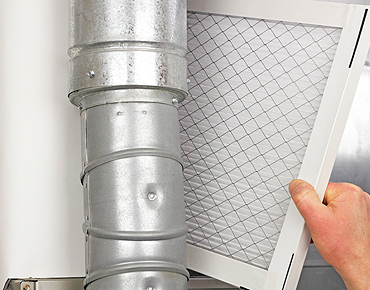 Residential
Subdivision housing, Stacked town homes, Single family custom homes & additions